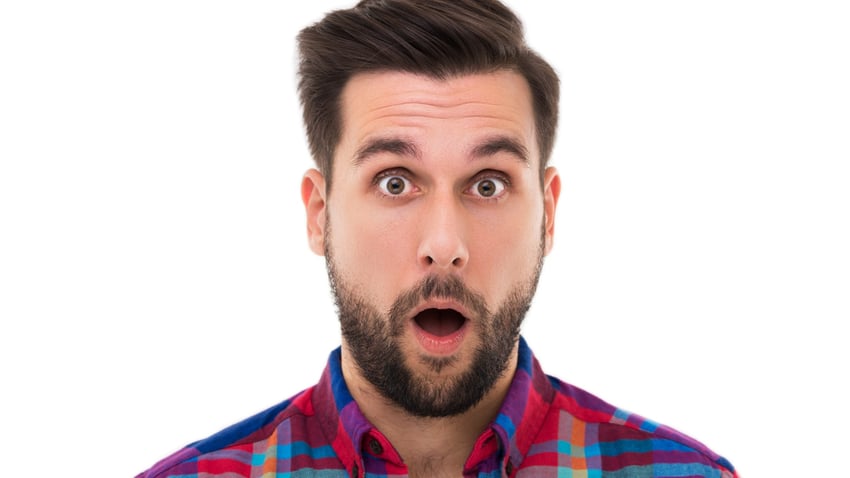 2016 was a record-setting year for many of our clients. We have partnered with some incredible companies that are filled with remarkable people. We have been honored to walk alongside them as they used our referral marketing tool in creative and dynamic ways resulting in dramatic improvements in their lead generating strategies.
Many of our clients have turned their customer referral programs into their primary lead source. Sales and marketing teams across the country have deployed our suggested practices which has helped to lower their Cost per Acquisition (CPA).
And we all know what happens when CPAs get lower: higher profit margins!
We think that this infographic outlines our year pretty well.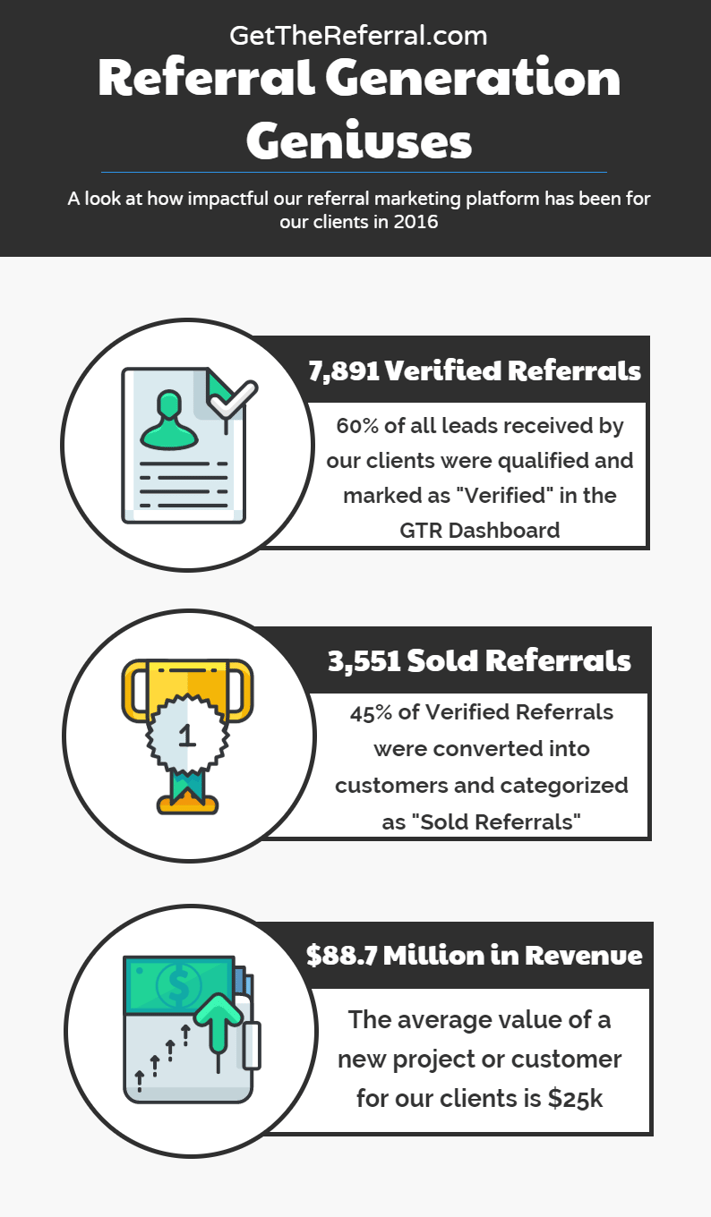 A Proposition Full of Value
We now know exactly what our tool is capable of. In fact, our tool is limited only by the imagination and creativity of the sales and marketing professionals we work with. Our big year is a validation that our clients are awesome, but that our product is pretty great too.
Our partner clients are using GetTheReferral.com's Platform to:
Enroll Their Audience into Their Customer Referral Program
Distribute Relevant and Useful Content to Their Audience
Engage and Encourage Their Audience to Submit Referrals
Manage and Track All Referral Leads Throughout the Sales Cycle
Reward Their Audience as Their Referrals Progress from Verification to Sale
Referrals = Revenue Generation
Contrary to what you may think, rewarding your audience for sending you qualified, verifiable referrals can dramatically increase your inbound lead flow. Verifying, or qualifying, referrals allows you to reinforce your referral program to your audience, which reduces the time elapsed between referral submission and rewards receipt.
The more frequently you reward your audience, the more consistently they will send you referrals.
Verified Referral Leads Have a 45% Closing Ratio
There is tremendous value in defining each stage of a referral lead. By moving leads from "Unverified" to "Verified", you segment your leads appropriately for your sales team. Providing your sales team with the referrals that present your company with real revenue opportunities is critical to the reduction of expended resources throughout the sales cycle.
Verified referrals are a lead source with a high, if not the highest, closing ratio. Closing deals more quickly helps you to be even more profitable.
Conclusion
Our amazing clients, equipped with our referral marketing software, can yield remarkable results. By following some best practices and executing our platform, you too can make referrals your most voluminous, and most profitable, lead source.
If you want to take a closer look at how our referral marketing technology can be applied to help you experience better lead generation, then click on the button below.