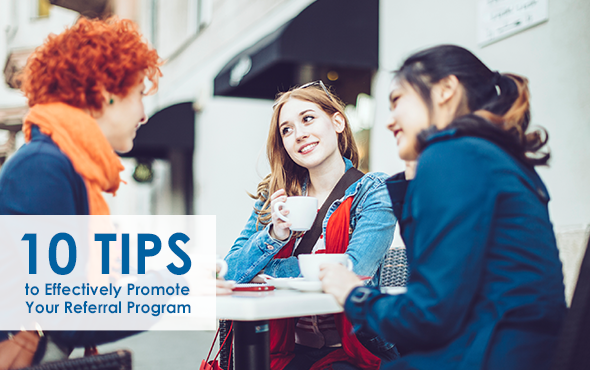 There's no use incorporating a referral system into your business plan if you don't instill measures to promote it. As described by Entrepreneur, the referral marketer "knows the process will bring him many referrals, he just doesn't know who they will be or by what route they will take to get to him." It is important to implement action within all possible routes, allowing the best outcomes to emerge from the referral system.
Understanding the best techniques on how to promote your referral program can increase your overall success rate. Here's some inside access!
1. Place word of your referral program on your main website
Your homepage is the hub of the majority of traffic on your business website. Placing the campaign for your referral program right here, rather than in a side menu, will attract the most amount of recognition.
2. Simplicity is the key to brilliance
If the reader is intrigued by your initial campaign, they will want to click somewhere to find out more. Create a link that shoots the reader right to the referral system page. The layout of this page should be very simple and extremely easy on the eye of the reader. Display images and clearly distinct steps that allow the reader to understand just how simple their task can be.
3. Include your campaign in your email
Regardless of the main topic of your emails, you can always incorporate information about your referral program in the footer.
4. Target your audience
Many major companies use targeted tactics. Send emails specifically regarding your referral program to people who have already bought your product or service, they're much more likely to join in on the excitement.
5. Promote rewards
Wherever you are including a campaign for your referral system, let most of the focus surround incentive for the reader. Let them know about the amazing rewards they can receive, and they'll be sure to click for more information.
6. Social sharing is caring
Your reader understands the benefits and wants to hop on board referring your services, now what? Incorporate social sharing buttons that let the reader share on a multitude of social platforms with just a couple clicks.
7. Keep a constant reminder on social media
Your referral program should get as much visibility as possible. Placing information about it in your bios on Facebook, Instagram, Twitter, etc. allow it to be seen every time someone visits your page. Plus, they have a reliable place to find the information if they want to refer back to it.
8. Call readers to action in your blog posts
Each time customers read a blog post, they should be reminded of the opportunity at hand. Blog posts end up being seen by many unexpected eyes. If you incorporate into each blog post words and links that call the reader to action, you never miss an opportunity to reach someone new.
9. Never stop talking
Even if you feel like a broken record, the person you're face-to-face with doesn't know you've been telling everyone. Keep your confidence and drop a quick comment about your referral system (especially the rewards) to every person you meet. Nobody will be upset with you for sharing a new way for them to gain something.
10. Don't lose your steam
When something is new, we tend to put much more time and energy into it than when it becomes a regular part of our routine. Don't let this happen to your referral system. Continue promoting your system well after it first launches.
Try these techniques to give your referral program the best chance to do what it is designed to do. Don't hesitate to contact us for more tips on how to run a successful referral program!