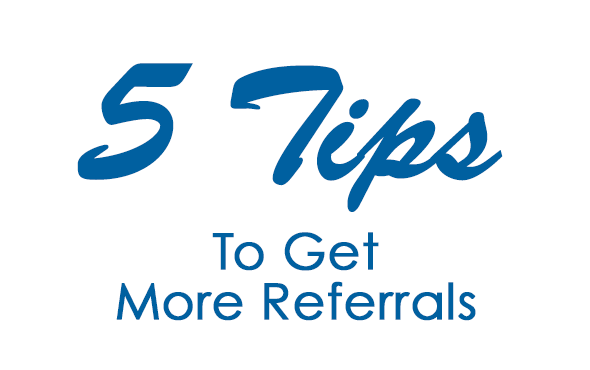 Marketing can be costly. Billboards, radio and TV advertising can cost more than the revenue they bring into the business. Referral marketing is still marketing -- but less expensive. How can businesses use referrals to generate more revenue for their business?
Here are 5 Tips to Get More Referrals:
1. Produce Gold
It's easy to get caught up in the future. The first step towards the future is selling to the first customer. Treat that customer with respect and give them the best product and/or service possible. When the customer is treated like royalty and you're producing gold, the customer notices right away and will want to share your business' products and services to their friends and family.
2. Look for Niches
After selling to the first customer, start calling other industries within the customer's business. For instance, once you've sold your product to a car wash, ask other car washes in the area. Your business might not have those businesses as clients right away. Over time, if you look for niches, you will become the expert in specific markets.
3. Ask As a Friend
Businesses love helping others. All you have to do is ask businesses to help you get more customers. The best way to approach a business about referrals is to ask as a friend would ask for a favor. After a few meetings and once you're comfortable with your current customer, ask them for help. Questions might sound like this:
"Who else would be interested in what we have to offer?"
"Hey, you mind asking around about our services and products?"
When the questions don't feel forced, more customers will be willing to help. If customers don't want to refer your businesses to others, that's fine. Asking as a friend without a hint of desperation will be the best for getting more referrals.
4. Be Patient
The most important part of referral marketing is time. When you feel pressured to sell more, businesses can sense that feeling. Current customers will wonder if you care about them at all. They might think you're worried about more sales instead. Creating a great product and service for a few customers will eventually spread by word of mouth to more customers in the future. Having patience is critical to success in referral marketing.
5. Give, Give, and Give Some More
It sounds counter-productive, but you will receive more from giving. One way is to give incentives to current clients for referrals. Set up a rewards program; the more referrals, the more prizes businesses receive. Another idea is to introduce two businesses to each other. Let's say a jeweler needs health insurance. You personally know a great health insurance agent. Give contact information to both parties, or schedule a meeting with both the jeweler and the insurance agent. It's like you're a matchmaker bringing two businesses together for a potential business partnership. Throughout the process, your business doesn't gain any revenue. By bringing multiple businesses together, more business owners will come to you in the future for help.
Remember, word-of-mouth marketing is crucial for businesses to generate revenue with minimal costs. Creating quality products and services for the community is the most important part of referral marketing. If you have more questions about referral marketing, contact us at GetTheReferral.com. With our technology, we help businesses generate referrals and set up their own referral program for their business.