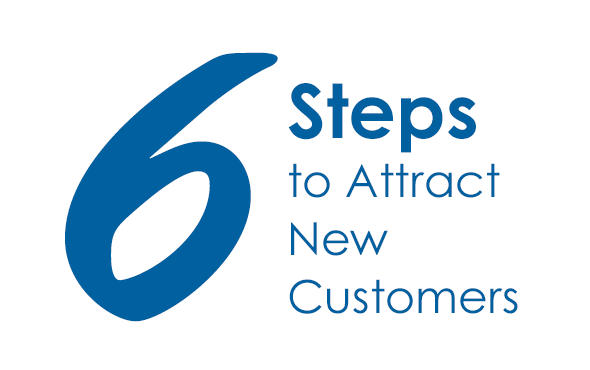 Do you want to attract new customers? Of course you do. Every business would like to attract new customers. Here are six steps to attract new customers to your business.
Know your customers

In order to attract new customers, you must understand your current customers. Listen to what your customers are saying to you. Put yourself in their shoes and try to understand their concerns. What are their needs or wants? How can you deliver the best product or service to fit their needs?

Ensure that you are proving a superb user experience

Are you providing excellent customer service? This is essential to attracting new business. If you provide a great experience, most customers will be excited to tell their friends and family about you. In turn, they will bring you more new customers.

Network

Are you networking with others and letting them know about your business? Tell everyone you meet about your business and offerings. Attend local events, trade shows, meetings, etc.

Follow up

Follow up for customers and potential customers is very important. You must be committed to following up on questions or concerns, as soon as possible. Your customers want to know that you care about them and their overall experience with you.

Treat referrals like the best thing ever

If you receive a referral, treat it like the amazing gift that it is! Handle it with care and follow up with the referral immediately. Word of mouth referrals are powerful. Want to learn more about referrals and why they are so powerful? Click here.

Ask customers to make referrals and reward for them

Are you asking for referrals? If you don't ask for referrals, you could miss out on opportunities for new customers. Politely ask for referrals and reward your customers for their good deed. Want to learn how to make the ask? Click here.
These are six very important steps to consider when trying to attract new customers. Are you utilizing them? For more information on how your business can attract new customers, please contact us today.