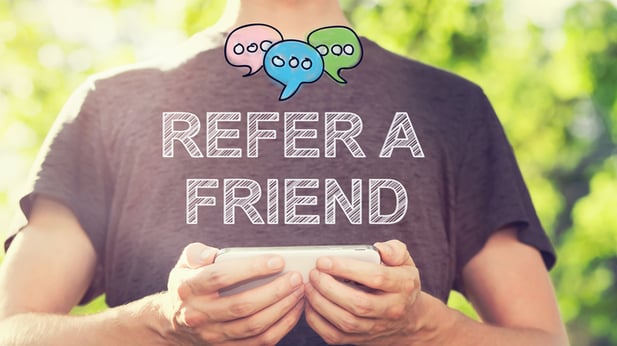 There are lots of different approaches to marketing, and plenty of differences of opinion on the most effective methods. But there's one thing that I think it's safe to say that all marketers agree upon: customer referrals are the very best kind of lead. The funny thing is, though, that it's not something that you hear talked about very much. Most of the discussions and articles on lead generation tend to focus on improving search engine ranking, or how to get more traction in social media.
Customer referrals may not be synonymous with lead generation, but a solid referral program should certainly be a part of your lead generation process. We all understand the value of "word of mouth". But how do you make it a part of your formal marketing program? Let's look at the steps involved in implementing a referral program into your sales and marketing operation.
Come up with an offer.
I don't need to tell you that in marketing in general, and, more specifically, in customer referrals, you need to give something in order to get something. Today's consumers tend to love to talk about their buying experiences. But keep in mind that in a customer referral program, you're really trying to get your customers to do your sales work for you, and that's going to require giving them some sort of incentive. Sometimes it could be a contest, other times it could be a cash payout, or a discount on a future purchase.
Give your customers a tool to share your info.
Getting a customer referral has some things in common with making a sale. Here's one, kind of a salesman's rule: make it easy for them. To get referrals, you'll want to make it as easy as possible for your customer to make the referral, and to get their rewards. GetTheReferral.com has an ideal solution for this purpose: its mobile app.
Available for both iOS and Android devices, the app makes the customer referral process a breeze for both the "refilliate" (the customer) and you, the business owner. Refilliates can use the app to make the referral from their phone, track the status of their referrals, and will receive a notification when their rewards become available. Business owners can track and monitor status of referrals, using a number of metrics, get real-time alerts on new referrals, and track rewards and refilliate growth. Better still, GetTheReferral.com will customize the app, branding it with your company info.
Customer referrals and lead generation are not exactly the same thing. But if your lead generation strategy doesn't include a customer referral program in 2017, you're likely missing a valuable source of new business.