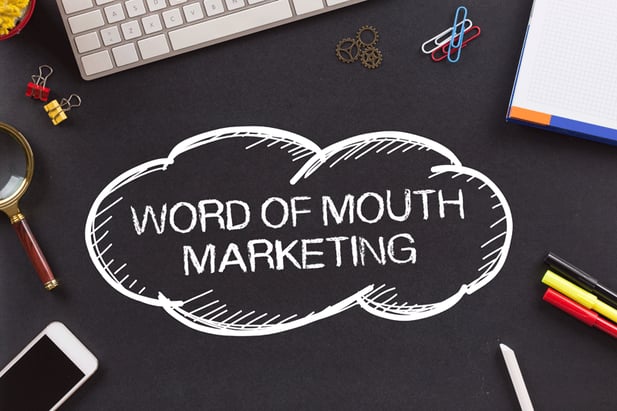 If you have been in business for any length of time you likely have an arsenal of marketing and sales tactics that are tried and true. You know what types of methods work for your business and your customers. But, the way that customers consume information and interact with businesses continues to change as technology evolves. As this happens, it can be difficult to figure out how to make your tried and true methods work within an increasingly technologically driven world. The good news is that some of the marketing methods that have proven effective over time can be adapted as technology continues to advance. For example, word-of-mouth marketing is a proven marketing method that can work hand-in-and with the digital integration that is taking place in the majority of businesses. In order to understand how these two elements can work together, it is important to have a clear understanding of what they each mean.
Word-of-mouth marketing
Word-of-mouth marketing is a marketing strategy that involves asking for and collecting referrals from current or past customers. On the most basic level, it is a satisfied customer recommending your company to someone they know. Word-of-mouth referrals can be a powerful source for high quality leads. In fact, WOMMA found that word-of-mouth has a more immediate impact than other types of traditional advertising. The vast majority of people trust the recommendation of someone they know more than any other source. Since word-of-mouth is such a powerful and trusted form of marketing, it is essential that you include it as part of your overall marketing strategy.
Digital integration
Digital integration is all about meeting the consumer where they are. Consumers are using mobile devices-77% of Americans own a smartphone-so you need to make your business accessible on mobile devices. Take it step further and think of digital integration as communicating with consumers in the ways they prefer to communicate. Continuing with the example of mobile devices, you may find that your customers prefer to communicate through their devices in ways other than making phone calls. Mobile users may communicate through texting, direct messaging, email, and inside of apps. Your business needs to be accessible through the communication channels that your current and potential customers prefer in order to achieve digital integration.
How can word-of-mouth marketing and digital integration work hand-in-hand?
Now that you have a working definition of the phrases 'word-of-mouth marketing' and 'digital integration' you can delve into the idea of them working together. At first glance, word-of-mouth marketing may sound like a difficult process to integrate into your digital marketing plan. In reality, advances in technology have made it easier than ever to integrate this powerful lead generation tool into your technology. An example of these two processes working hand-in-hand is a mobile app designed for a customer referral program. Setting your customer referral program up on a mobile app allows you to use technology to bring in word-of-mouth leads. An app will make it easy for customers to put in the information you need and simple for you to get that information to the right places. In addition, you can have your app set up in a way that allows you to communicate with customers and provide incentives for referrals inside of the app.
Word-of-mouth marketing and digital integration can work together seamlessly. Receiving high quality word-of-mouth leads through an app that is interconnected with the other elements of your business has the ability to transform your business. It will take some effort on your part to get everything to that level, but the reward is well worth the effort.