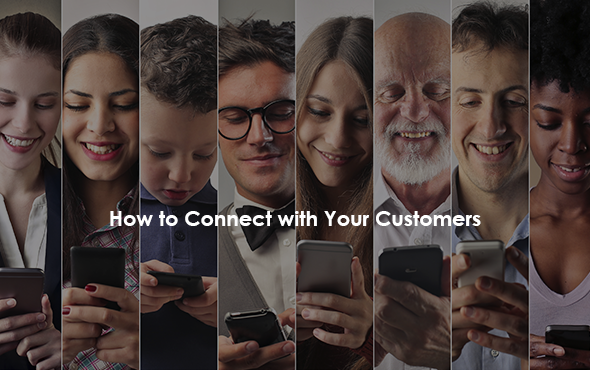 Customers who feel truly valued by the businesses they buy from are more likely to buy again than to look elsewhere. Customer loyalty is one of the most powerful business-building tools any business can master.
Many business owners are incredibly busy. They work hard to market, to sell, to produce, and to deliver. Connecting with and staying in touch with existing customers often takes a back seat because it is so important to go after new customers. But connecting with existing customers is one of the surest ways to bring in more business - as long as it is done properly.
Getting a 'boiler-plate' newsletter, a flyer in a multi-pack, a sales leaflet or a general sales letter is 'staying in touch with' but it is not really 'connecting with' customers. There is a huge difference in meaning, and a huge difference in the effect it has.
How Do You Connect With Customers?
"It was OK, but we didn't really connect."
Whenever you hear that sentence, you know what is coming next – there will be no next time. Connecting is meaningful, connecting has value, it is enjoyable, it creates something and it continues something that is valuable to both parties.
It does not matter whether it is personal or business – connecting counts. You connect with your customers in many ways. What matters is just that – that it matters. As a business owner you have to find ways to continually connect with every one of your customers.
One way – just one – is to create a sense of belonging, a feeling that they are important, and that they benefit – immediately, directly and easily. That is where a great referral program comes into its own.
When a customer feels they are important, that they belong, that they are doing something of benefit for someone they know and like – and that they get a reward for it – you have a connection that ties the bonds tighter.
And tight bonds are hard to break – and that builds loyalty. When you connect with your customers this way you generate a win-win-win situation. You win by getting a new customer, the new customer wins because they buy something that will benefit them, and your existing customer wins because they feel good, do good and get a reward.
This is one powerful way, and one obvious way to connect with your customers. Now you must make it easy. When something of value is easy, it is more likely to get done - good intentions need a helping hand!
How to Really Connect With Your Customers
Your referral program will do six things. It will:
Get you more orders because it will
Get you more customers
Help all of your customers to feel they 'belong' to a successful business that cares about them
Make it easy for them to refer new customers because of the referral app and your company's referral web page
Reward them for referring customers
Give you appropriate reasons for 'keeping in touch' because you will thank them for the referral, remind them how the referral is going, remind them of the reward they will earn or the reward they have earned and are now due to receive
Connecting with your customers is essential because it strengthens those bonds and builds loyalty. One very powerful way of connecting is to give them something easy and valuable to do - to refer people they know, and who know them. When you make the most of your referral program you will connect with all of your customers - and you will ensure that there are a lot of next times.
We would love to demonstrate how our referral program will help you to really connect with you customers, and to answer all of your questions, so please click here to contact us so we can make that connection.