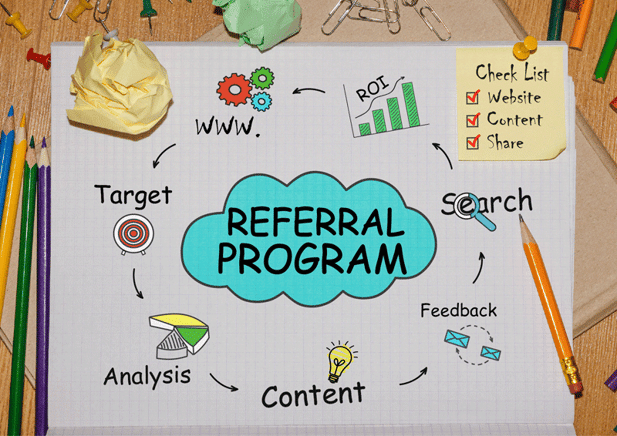 If you've been in business for any amount of time, I'm sure that you've heard about the importance of getting referrals. I know that you've put a lot of time, effort, and expense into perfecting your product offerings. And if you're like most business owners we know, you've probably got all sorts of sales and marketing projects under way. Your various forms of marketing, whether they're "traditional" methods like print ads in publications or direct mailings or more modern methods like content marketing are certainly valuable. We wouldn't suggest that you stop using those. But if you're not using a customer referral program, you may be missing out on the most valuable and the most cost-effective form of marketing.
Why are referrals so valuable?
Compared to referrals from satisfied customers, leads from other marketing sources are like an endless series of shots in the dark, or a long line of blind dates. Here are some of the reasons why referrals are so much more valuable:
People trust referrals.
Today's buyers are internet-savvy, and tend to do lots of research before making important purchases. But there's something that most buyers value even more than the information they can glean from a Google search: a referral from a trusted source. A Harris poll taken in 2016 reveals that 82% of Americans say that they seek recommendations from friends and family when they make a purchase. What this means to you is that when a lead comes to you through a recommendation from a satisfied customer, it's much more likely to convert into a closed sale.
Referrals feel more valuable than other discounts or incentives.
Everyone loves to get coupons or offers for discounts. I know I do. But those are generally public offerings. When you put out a coupon offer, or a special promotion or sale, it's open to everyone. In contrast, a referral offers a sense of exclusivity. When your trusted friend or family members sends you a referral to a company they're satisfied with, it feels special. Not everyone has access to that offer. Additionally, it makes your existing customers feel special, since they have something of value to offer to people who trust them.
Give them some incentives to refer.
Today's consumers don't just look for information online, they also tend to love to share information on products and services they've used. The internet, especially social media, is almost flooded with accounts of people's experiences with companies with which they've done business. Offer a satisfied customer some incentive for sharing your info, and they're even more likely to spread the word. The same Harris poll mentioned above also showed that 88% of Americans want to receive some sort of reward for sharing product information, with that number jumping up to 94% for those between the ages of 18 and 34, currently the largest demographic in the consumer world.
Tie it all together with a Customer Referral Program
Word of mouth is an incredible tool, but to maximize results, you need an organized program. Your satisfied customers will be more likely to refer their friends and family if you have a structured system of incentives, and it will all work most efficiently with a cohesive program that you can track and monitor.